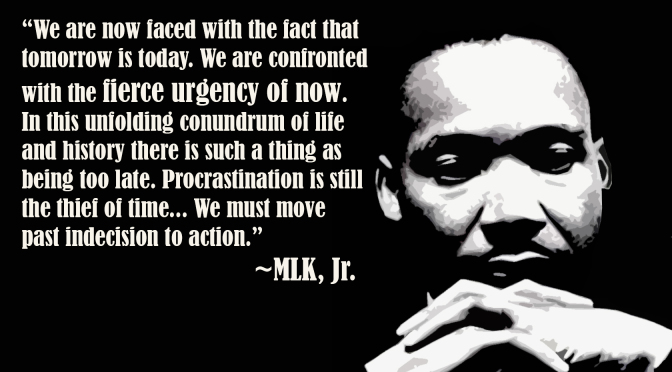 The Rev. Lee M. Miller II
August 25, 2019
Luke 13:10-17
"These are revolutionary times.
All over the globe people are revolting against old systems of exploitation and oppression and out of the wombs of a frail world, new systems of justice and equality are being born…
We are now faced with the fact that tomorrow is today.
We are confronted with the fierce urgency of now.
In this unfolding conundrum of life and history there is a thing as being too late. Procrastination is still the thief of time.
We must move past indecision to action.
We must find new ways to speak for peace…and justice."
Dr. Martin Luther King Jr., April, 1967.
This story this morning is not merely a healing story. It is a story about justice.
It's a story about what God intends.
It's about urgency.
About seeing a long overdue wrong; and making it right. Without delay.
The key to the story centers around the argument between Jesus and the leader of the synagogue.
The leader, presumably, does not have an issue with the healing itself.
We can hope (assume?) the leader wants the best for others, would want the best for this woman;
Their issue, why Jesus has to restore the woman, now?
I mean; it doesn't seem her illness is life threatening?!
She had obviously learned to live with it for nearly two decades.
This was chronic pain; it wasn't like she was in a car accident.
If she could wait this long, bent over, eyes cast in the dust, never able to look up at the sun, or the one to whom she was speaking with.
If she could wait this long, why not a little longer, why push things?
Wait for the sabbath to end.
Surely she could wait a little longer.
Matt Skinner, Professor of New Testament at Luther Seminary writes that Jesus "response to the synagogue leader is as scathing as it is succinct. [i]
The Sabbath is no excuse for willfully extending suffering and delaying wholeness.
Rather the purpose of the Sabbath actually expresses the reason why Jesus should restore the woman now.
The Sabbath is all about freedom and justice.
Deuteronomy 5: 12-15 reads:
Observe the Sabbath day and keep it holy, as the Lord your God commanded you. Six days you shall labor and do all your work. But the seventh day is a sabbath to the Lord your God; you shall not do any work — you, or your son or your daughter, or your male or female slave, or your ox or your donkey, or any of your livestock, or the resident alien in your towns, so that your male and female slave may rest as well as you. Remember that you were a slave in the land of Egypt, and the Lord your God brought you out from there with a mighty hand and an outstretched arm; therefore the Lord your God commanded you to keep the sabbath day.
Skinner writes, "The original intention of the sabbath, according to Deuteronomy, is to provide relief, even if only temporary, from any system that would deny a person – or any part of creation – a share of rest, peace, wholeness, dignity, and justice."
The synagogue official says, "Wait just one more day."
Jesus answers, "No." [ii]
400 years ago this week; the first Africans, stolen from their homes in Angola, were brought ashore in the Virginia colony; and though the slave traders had intended on bringing their human cargo to South America, they sold 20 people there in Virginia, opening up what would become the driving engine for the building of America.
In the United States, we commemorate everything; all parts of our history.
In Buffalo we remember the French and Indian War, the War of 1812, and the Revolutionary and Civil War.
We commemorate sad and tragic days like 9/11 and Pearl Harbor Day.
We say, "Remember the Alamo."
But far too often we speak far too little about the scourge of slavery and the fibers its left in the interweaving of our nation.
In the 400 years since, that first ship landed in August, 1619, people of African descent in America have faced:
Jim Crow laws, which meant (among other things) African Americans did not build wealth through land acquisition the way that immigrants in America enjoyed;
Red-lining which devalued neighborhoods like the East Side of Buffalo, and
mass-incarceration where disproportionate number of African Americans, especially men, have been arrested and prosecuted where anglo-descent persons have been let off with a warning.
The impact of Slavery, and its successors have had a lasting impact.
And our siblings have been crying out for us to hear, see, and respond.
Too often, through history, the response has been,
Wait one more day.
It will get better.
It just takes time.
The world moves slowly.
You can't expect equality and equity overnight.
But Jesus saw the woman bent over.
And when God sees God's people suffering.
When God hears the cries of God's people, bent over, their gaze in the dust.
God responds.
God moves.
Now.
And we the church.
This is our gift.
We are the body of Christ.
We are the ones who proclaim life over death.
We are the ones who have confessed that God has lifted us out of the dirt;
Formed us to be the church.
To hear the cries.
To respond.
Today.
And not to wait another day.
I'm so glad for our Vacation Bible School.
I'm so grateful to Susan, and to all of the teachers, the countless volunteers, the extra work of our church staff, and everything that happens throughout the year to make it happen.
But I'm especially grateful, that our goal at Vacation Bible School is not to prepare the future generation of the church.
But to be the church together,
Today.
What I mean is; this week our young people were taught, (or we hope) that they have super powers to love generously, give lovingly, and be the beautiful people God has created them to be.
And we weren't telling them that "some day" you can make a difference in the world, but today.
When you see injustice; you can play a part doing justice.
When you see someone hurting, you can help today, you don't need to wait.
And so our young people did.
Preparing comfort kits for those who turn to Compass House for shelter;
Creating emergency care bags for pets; because when people don't have enough to eat, sometimes they have pets who don't have enough to eat.
And preparing school kits for fellow students; because every student needs the basics so they can learn.
And we're doing it now.
Dr. King concludes,
"Now let us begin. Now let us rededicate ourselves to the long and bitter
— but beautiful — struggle for a new world. This is the calling of the [children] of God, and our [siblings] wait eagerly for our response."[iii]
Amen.

---
[i] http://day1.org/7456-on_scripture_why_we_cant_wait_luke_131017_by_matthew_l_skinner. August 24, 2019.
[ii] Ibid.
[iii] https://www.beliefnet.com/columnists/christianityfortherestofus/2011/01/martin-luther-king-jr-fierce-urgency-of-now.html. August 24, 2019.