Here is where you can find the latest information on Holy Trinity's response the COVID-19. We will share the latest news and updates as it relates to the ministries of the Holy Trinity.
Our Weekly Email updates, Our Life Together.
"We are in need of donations for our Pastor's Emergency Food bags. Canned ready meals, tab topped cans of fruits and vegetables, pasta, sauces and soups" If you are able, please bring these items to the church. If you need them picked up from your porch, we can do it. PLEASE NOTIFY THE CHURCH OFFICE regarding either way. Thank you!"
A letter to the congregation from the Executive Committee and the Pastors (sent 3/19/202). Click here.
A letter from Pastors Miller and Maynor can be found here.
A letter from the Upstate New York Synod Bishop, John Macholz can be found here.
Information from the ELCA can be found here.
---
Information on how we will continue to worship can be found here.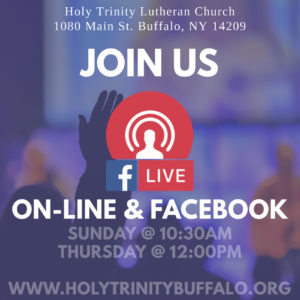 ---
There is a new page dedicated to Sunday School which can be found under the Grow and Discover tab located at the top of the page. We will begin to add Sunday School resources for use during our COVID-19. This page will be updated and will continue even after we able to come back and be community in person. You can find that page by clicking here.
We also have a page for our youth group, found under the same tab as the new Sunday School page (under the Grow and Discover page), listed as LYO:Youth Group. Pastor Brenda will update this page with information and various resources both during and after our COVID-19 Stay-in-Place.
We will continue to hold Monday Morning Bible Study. We will be experimenting over the next couple weeks to find the best way to engage in our continued study of Reading the Bible in a Year. Information on this study can be found on our Read the Bible Challenge page found here.

The details on how to access zoom for Monday Morning can be found in the weekly Holy Trinity email, This Week at Holy Trinity.
Back in March, when we first decided to pause in-person worship and then when New York and the rest of the nation went on "Pause" due to the global pandemic caused by COVID-19, Holy Trinity offered an 8-week Pandemic Hope Devotion, in the hopes that you could find time in your day to connect to God in way that was relevant and meaningful during that time. While things have begun to progress and we are seeing signs of forward progress, we also know that we won't be returning to a relative normal in the near future so those who collaborated on the Pandemic Hope Devotion have done it again, and we offer you the Pandemic Faith Devotion. This is also an 8-week family devotion to use as a we continue to walk in our faith in this time. It is designed to follow the first, Pandemic Hope Devotion. These devotions where designed to begin on March 16 and May 11 respectively, they are not locked down to those dates and can be used whenever you decide(d) to start them. The Pandemic Faith Devotion can be found here. If using the Pandemic Faith Devotion, don't worry about the dates included start when you are able and just follow along daily!
We invite you to take time each day for a daily devotion. You can find our Pandemic Hope Devotional here. This allows us a few moments to connect to each other and to God.
Friday Fellowship "Happy Hour" – 5:00pm Click Here on Friday at 5pm to link to a virtual Happy Hour by Zoom technology.We'll meet together through safe physical-distancing while being able to check-in with each other and enjoy the company.
---
For more detailed updates regarding COVID-19 please visit the following websites:
Centers for Disease Control and Prevention
World Health Organization
Erie County Department of Health
New York State Department of Health
Buffalo, NY COVID-19 Page