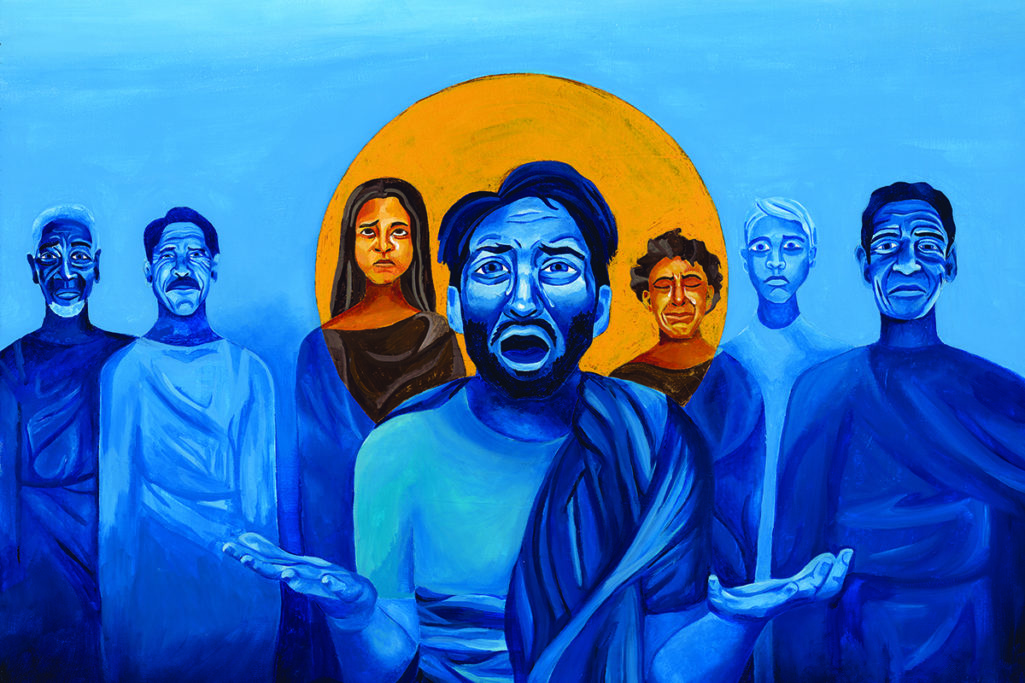 The Rev. Lee M. Miller II
March 29, 2020
John 11:1-45
That Discomfort You're Feeling is Grief.
The Harvard Business Review's edit staff was meeting this week;
like many other staffs of many other business with the privilege of working remotely; virtually, in something we know now as Zoom meetings.
And as they were going around the room from their laptops and iPads doing a check-in,
one colleague said that what they were feeling,
was grief.
And it is.
Journalist, Scott Berinato, spoke with David Kessler, one of the world's foremost experts on grief.
He co-authored with Elisabeth Kubler-Ross and has written on a Sixth-stage of grief he calls:
Finding Meaning.
Kessler has served on the Red Cross's disaster services team, and is the founder of www.grief.com
He shared his thoughts on why it's important to acknowledge grief and that yes, right now,
we're feeling a number of different griefs.
It feels like the world has changed, and it has.
We know this way of living is temporary; but it doesn't necessarily feel that way.
And just like before 9/11 we couldn't imagine ever having to take our shoes off in order to get onto a plane,
we have no idea just how things are going to change.
Our grief is anticipates loss we do not yet know.
There is the fear of the economic toll;
The loss of normalcy;
The isolation from intimacy.
A colleague this week, who was preparing for Commencement from seminary this May said,
"I think I'm grieving graduation, but then I feel bad that I'm grieving my personal stuff, when so many others are suffering something greater with this virus. And then I feel bad for being sad and angry."
But it is okay to grieve.
Kessler says that, "there is something powerful about naming…grief…Emotions need motion." [1]
Naming the grief, articulating it, is that first action.
And it's the first thing the sisters tell Jesus.
If you had been here, my brother would not have died.
If you had been here, my brother would not have died.
That's the pain.
My brother is dead.
Our grief is raw.
And, Oh God, you didn't even care to show up.
You are late – and if you had been here, our brother would not have died.
Now we could spend our whole time considering the why's and how come's to Jesus timing of his arrival in Bethany.
Saying that he purposely wanted Lazarus to die just so he could raise him up sounds like torture, and a nasty trick, and so I have a hard time believing that to be the case.
It could be that it serves as a reminder that God accompanies us in life and in death;
Jesus says through it, God will be glorified;
I think I'll leave some space for us to consider the why's this morning,
But, whatever our wonderings about the timing.
Jesus shows up.
God-incarnate – the Holy One in the flesh, shows-up; stands in the face of the sister's grief,
and listening to Mary and Martha name their pain, pour out their grief,
Jesus asks where Lazarus is,
"Lord, Come and See."
And Jesus goes to the tomb. And faces the grave.
I'm always amazed at those who go into those difficult places.
For nurses who remain on the job, knowing what they are facing.
For doctor's who are working, scrambling, to have the equipment they need to heal,
For Medical technicians, who go home to their families, isolating themselves from their children because they do not know what they are carrying home.
And then Jesus breaks down.
The One who knows what he is about to do could keep it in.
Right there in front of the crowd,
With everyone looking on – those who loved him, and those who were looking for a reason to condemn him.
Jesus cried.
Our Lord wept.
Broke down.
And I imagine, it was one of those good cries.
And you know what, beloved, it's okay to cry.
Men, children, it's okay to cry. (I say it like that, because some were taught it's not okay to cry.)
Our emotions need motion, and first we can name the pain, and then we can cry and let those feelings out.
Sometimes we push our feelings away; we push away the pain, but the harder we push it away – the more we block it; ignore it – the stronger it comes forcing its way into our hearts and minds again.
You can't social-distance yourself from pain – it will get all up in your personal space – you have to allow it to move through.
Jesus does not dismiss our grief.
Jesus cries with us.
In so doing, Jesus both validates our human grief, acknowledging our pain, and shows us that our tears falling are part of the pathway to healing.
The story of Lazarus takes considerable time to show us the pain, to show us the family's grief;
The text makes special point to show us Lazarus is really dead…it's been four days…
It probably feels like it's been four years.
"The details of Lazarus' death are clear;
but so too is the message: there can be life where you least expect it."[2]
……………………………
Theologian Slats Toole writes that, We don't expect life in the wilderness.
It is easy to think of the wilderness as empty, barren, dead.
But the truth is: there is life in wilderness, in desert spaces.
In every place we dismiss as hopeless, there is life.
…
I have been one who has described this time while we are apart; this time of distancing and isolation and non-gatherings of worship,
As an exile.
And I mean that, it is how it feels to me, it is the grief I feel, and it is not to dismiss the great exiles humans have experienced before; but rather to learn from them, be inspired by them, and moved with them.
The great biblical exile of the Jewish people into Babylon lasted 70 years, with generations born never knowing from where they came;
And 400 years ago, our siblings were stolen from their homes and people of western and central African nations and tribes, bought and sold on our American shores, and exiled in slavery;
their descents of the diaspora, despite the conditions they have faced in each generation since,
have striven to rise up, and have continued to raise up others alongside them.
They have continued in the hope of future that is yet to be fully recognized.
These exiles stories speak into the wilderness of our grief.
The grave does not get the last word.
Grief, isolation, quarantine, Covid-19, do not get the last word.
Death does not get the last word.
And the beauty of this story, Toole writes,
Is that the promise of the resurrection does not skip over our grief.
Our grief is real. We can name it.
But it doesn't need to hold power over us; it can not bind us.
The promise of the resurrection has set us free.
[pause]
You know when Jesus looked into the grave,
And called out with a loud voice, "Lazarus come out,"
Everybody looked – because they wanted to see what was going to come next.
We look too!
When Jesus says, "Lazarus, come out!"
We look into the grave to see what is going to happen next.
Sometimes we look into that tomb, and it is like a mirror – and we see Jesus as if he is talking to us –
Come out and Live!
But that portal of Lazarus tomb, is more like a lens,
It is the view with which we see the world.
We are a Resurrection people.
This Resurrection is not ours alone, but ours for the benefit of the world.
We too are to call out to the graves – Rise Up and Live!
We too are to speak up for the prisoners – and I mean right here, and right now – especially those imprisoned for parole violations – and now their isolation can be deadly – Unbind them – Let them go. We can create new pathways for new life with Restorative Justice.
We too are to shout out to the sick – You are Not Alone!
We too are to accompany the grieving – death does not have the last word!
Rise Up! Unbind them!
Let them go!
And proclaim the Glory of the Lord!
Amen.
Artwork: "Unbind Me" by Lauren Wright Pittman | A Sanctified Art LLC |
---
[1] Berinato, Scott. "That Discomfort You Feel is Grief," Harvard Business Review, March 23, 2020, https://hbr.org/2020/03/that-discomfort-youre-feeling-is-grief.
[2] Toole, Slats. SanctifiedArt.com A Sanctified Art LLC.