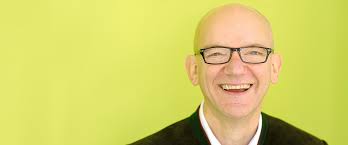 Holy Trinity will be hosting internationally acclaimed English composer Bob Chilcott (founding member of the King's Singers) and the Vocális Chamber Choir for an entire weekend of incredible events.
On Friday, March 2 we will have a morning rehearsal with High School Choirs from Amherst (Justin Pomietlarz), Lancaster (Gary Lee), and Starpoint (Roger VanDette). At 7:30pm there will be a Community Sing. $5 at the door includes a score of Mr. Chilcott's brand new Gloria conducted by the composer.
On Saturday, March 3 there will be a closed rehearsal with Bob Chilcott and the Vocális Chamber Choir.
Sunday, March 4 will be  "Bob Chilcott Sunday" at the 10:30 service. The Chancel and Youth Choirs will present Bob Chilcott's Canticles of Light for organ, choirs and chimes, among other works.  At 4:00 Vocális Chamber Choir presents its concert The Music of Bob Chilcott, featuring choirs from Amherst, Lancaster, and Starpoint High Schools $15.  For more information, visit www.vocalischamberchoir.org
Bob Chilcott has enjoyed a lifelong association with choral music, as a composer, conductor, and singer. He was a chorister and choral scholar in the choir of King's College, Cambridge and for twelve years was a member of the vocal group The King's Singers.
In 1997 he became a full-time composer. A Little Jazz Mass, Requiem, and St John Passion are among a number of works from his prolific output which are performed worldwide. He has written large-scale works, including The Angry Planet, composed for the 2012 BBC Proms, community-based projects, such as The Voyage for Age UK Oxfordshire, which in 2017 was nominated for a Royal Philharmonic Society Award, pieces for children, including his much-loved song, Can you hear me?, and a significant amount of music for the church. In 2013 he wrote The King shall rejoice for the service in Westminster Abbey to celebrate the 60th anniversary of the coronation of Her Majesty, Queen Elizabeth II.
Chilcott has conducted choirs in more than 30 countries worldwide and has worked with many thousands of amateur singers across the UK in a continuing series of Singing Days. For seven years he was conductor of the Chorus of The Royal College of Music in London and since 2002 he has been principal guest conductor of the BBC Singers. His music has been widely recorded by many leading British choirs and groups including King's College, Cambridge, Wells Cathedral, Westminster Abbey, The King's Singers, The Sixteen, Tenebrae, the BBC Singers, The Bach Choir, Commotio, and Ora. In 2016 Bob collaborated with the celebrated singer Katie Melua and the Gori Women's Choir on the album In Winter, which reached the top 10 in the album charts in the UK and Germany.
In 2017 Chilcott was awarded an Honorary Fellowship of The Royal School of Church Music.