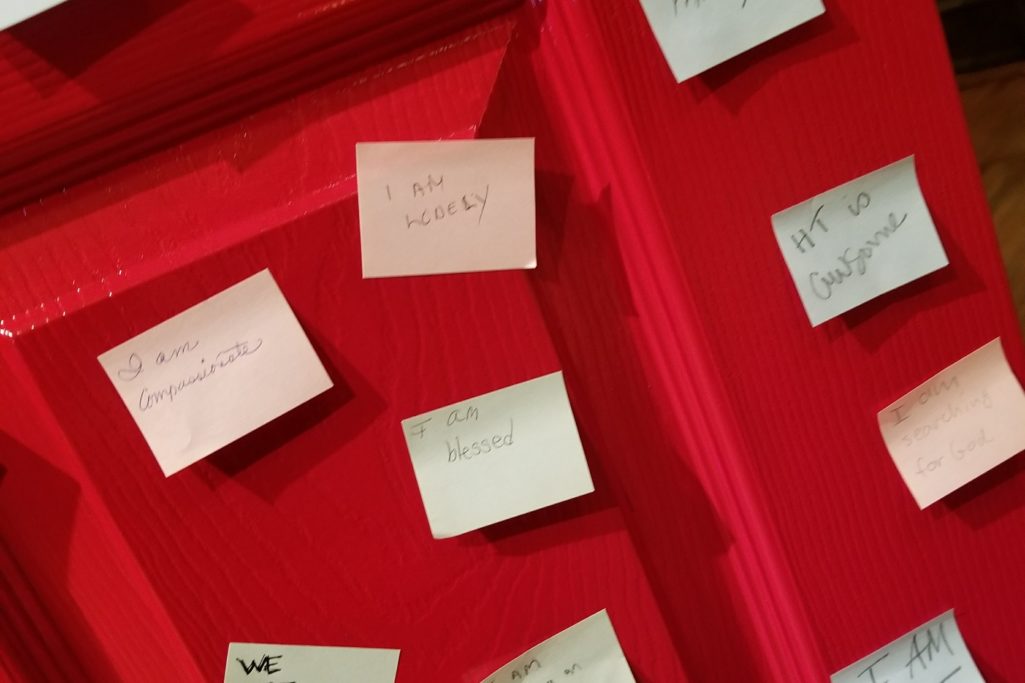 Text: Mark 1:9-15
Good and Gracious God, thank you for waking us and bringing us together once again around your word and meal. Open our ears and hearts that we might hear you calling, calling us, affirming us. That we might confidently know our identity in you, as beloved children. Amen.
Identity.
The condition of being oneself, and not another.
The condition or character as to who a person is; the qualities, beliefs, etc. that distinguish or identify a person or thing.
What identifies us?
Who decides?
In today's Gospel, Jesus is given an identity. This identity is given by God. This identity is not based on the labels that society places on a person in order to establish one's identity for the purpose of maintaining societal status quo.
I think it could be easy to come up with a list of qualities and beliefs that distinguish and identify who Jesus is. Just a few verses prior to the ones heard today, John is proclaiming in the wilderness that "the one who is more powerful than I is coming after me."
Jesus is powerful. Check.
In the verses following our Gospel text, Jesus calls the first disciples and enters Capernaum, while in the synagogue teaching, a man with an unclean spirit cries out, "What have you to do with us, Jesus of Nazareth? Have you come to destroy us? I know who you are, the Holy One of God."
Two for one. Jesus of Nazareth and Holy One of God. Check and Check.
We also know Jesus as the Son of Man, the Messiah, Immanuel. (Just to name a few.)
So, if Jesus' identity is already established, why does God need to do it again? And why does God make this affirmation for only Jesus' sake?
With the identity of "You are my Son," Jesus' future course is laid before him: he will be the servant of God, who will offer his life as a sacrifice. This identification is about new beginnings, this is a new beginning, a beginning of a whole new creation. And this was to be Jesus' divine vocation.
Divine vocation is both amazing and dangerous. Through our divine vocations, we are given divine favor, but that divine favor comes with a price, one in which we are immediately thrust into liminal, transitional, space.
Jesus is immediately driven out into the wilderness.
When Jesus emerged from the waters of the Jordan, he had a vision in which he acquired a unique sense of God-given identity and affirmation, followed by an overwhelming sense of the power of God driving him into the wilderness for an extended period of time of spiritual struggle. Jesus emerged from this in due course a new man, by all appearances, with supernatural powers and a revolutionary spiritual message.
So, who are we? What are our identities?
A few years ago, as I was preparing for a lesson for a high school camp, I came across a story about an "I Am" wall. The article was written by four students in a language arts class in Liberty Middle School located in Madison, Alabama. The project stemmed as their class prepared to read The Outsiders by S.E. Hinton.
The project started out as a way for individual students to shatter the stereotypes that they felt had been placed on them. The teacher, Ms. Johnson, had the students write down all the ways that the students had felt judged; the things that they were NOT. The students moved the desks into a circle, and Ms. Johnson laid out all of the stereotypes, the "I AM NOT" labels in the center of the room. Students read the words and phrases scattered on the floor, words and phrases such as
I AM NOT….
Who you think I am
Always happy
Indestructible
Perfect
The students were asked to write about the words and phrases that they connected to the most, and the student writers described that the students began writing and didn't stop until told to do so.
After this activity, the class project focused on "I AM" statements. The class used the hallway wall outside of their classroom to create an "I AM" wall. The students could write their own "I AM" statements and post them to the wall. The students soon began to see an impact as a result of this project, other students at the middle school at begun to participate and the students seemed to genuinely begin to learn what it meant to empathize with others. To see that the other students' struggles were not so different from their own.
Some of the words and phrases that appeared on the "I AM" were
I AM…
Trying to find the right path
Tired
Misunderstood
Christian
Someone who makes mistakes
Tired of cancer
More than you think I am
In our baptism we are given an identity, just as Jesus was. We are made children of God, this God-given identity and affirmation that we are God's Sons and Daughters, that we, too, are beloved.
Who are you?
What is your identity?
You will find in your bulletins this morning three post-it notes. On the first post-it note, write a word or phrase that completes the following, I AM NOT… on the second, I AM…and on the third, WE ARE, thinking of our identity as Holy Trinity. During the hymn of the day I invite you to post the two notes, I AM and WE ARE on the door. As you come up to receive communion, I invite you to bring up and throw away your I AM NOT identities.
As we enter the season of Lent, we are provided with our own liminal, transitional space where our old identities, stereotypes, and judgments are dissolved and our new identities, our God-given identities, our divine vocations are forged.
Jesus heard an affirmation of his unique being and significance FROM God, that is, from beyond finite, historical existence. It was a word transcending human origins, rooted in eternity, absolute, and unconditioned by the frailty, uncertainty, and contingency of human relationships or historical circumstances. Jesus learned that he was unconditionally God's Beloved Son.
But is it not precisely this message that we ourselves are privileged to hear and learn in the gospel of Jesus Christ? That in response to Jesus and through Jesus, we too can claim that in our own unique and different ways we too are sons and daughters of God? That through Jesus, we too, have been given a name, an identity, and a worth and dignity as human beings that is rooted and grounded with all the saints in the eternal, unconditioned, unalterable being and love of God?
Here again, these words, "Child of God, my beloved; with you I am well pleased."
Amen.