Sunday Forum (formerly Adult Forum) – Sundays at 9:30am in the Fellowship Room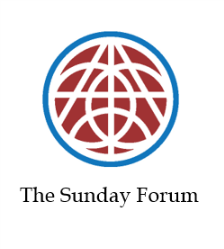 Guest speakers present on a variety of topics and issues; intersections of the best of Buffalo and how it relates or connects to the faith community. On occasion members of the congregation present on ministry and mission, and we also take some time to have some fun along the way and not take ourselves too seriously. Check the calendar each week for the speaker of the day.
Upcoming Speakers include:
September
 8       God's Work our hands
15     The Haiti Team will update us on our mission work in Haiti
22     My Life in Health and Wealth – Darcy Thiel of Help for Healing
29     Flu Shots available between services and during coffee hour
October
6          Being the Match    (bone marrow donation)  Sal Gandalfo
13        No Forum – Columbus Day Weekend
20        Holy Trinity's challenge to read the whole Bible by the end of the year   – Pastor Miller
27        Feed More WNY – Catherine Shick
November
3          My journey through Leukemia – Marcia Haas
10       Prayer Service to dedicate the flag pole at 9:30 at the flag pole
17       The Buffalo Zoo through the eyes of 2 Docents – Donna Leiser and
            Elizabeth Vihnanek
24       No Forum – Thanksgiving Weekend
December
 1   Let There Be Light International (as it relates to climate change) – Sarah Baird
8    Emily Notari presents our Holy Trinity proposed budget
15   Annual Christmas presentation – Dr. Roy Clare
---
Monday Bible Study – Monday 9:30am – Fellowship Room
The Monday morning Bible Study walks through Biblical themes in scripture taking time to consider source, context, and audience of the text. All are welcome and no previous experience is necessary.
Current Topic: Winter, 2019 – Women of the Bible
---
Brewed Faith – First Wednesdays 7:30am – Spot Coffee 1406 Hertel Avenue
An informal theme and topical study using the Bible as a primary source but not exclusive to other texts and resources. Leadership is group oriented. Grab your favorite cup of joe or tea and join us. No experience necessary.
---
Women's Bible Study – Second Tuesdays 6:30pm – Fellowship Room
Similar to a traditional Bible study, but is more conversational and discussion driven. The topics are more thematic rather than Biblically based, and many times includes a reading or book. This is a safe space to ask questions, listen to others, and to explore deeper. Refreshments are available.