Our Holy Trinity Staff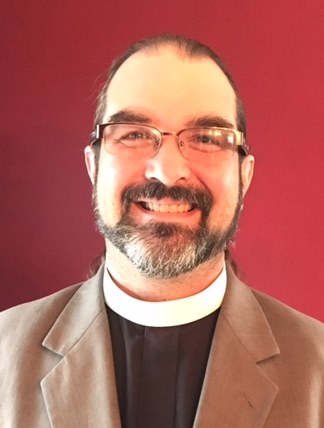 The Rev. Lee M. Miller II – Senior Pastor
Born in Jamestown, NY, Pr. Lee lived in Lockport, NY, outside of Buffalo, long enough as a child to fall in love with the Buffalo Bills and Sabres, before moving to East Syracuse, New York.  A graduate of the State University of New York in Albany with a Bachelor of Arts degree in English and Secondary Education, Pastor Miller earned his Masters of Divinity degree in 1998 from the Lutheran Theological Seminary at Philadelphia with a concentration in Urban Ministry.
Pr. Lee served his first call in Camden, New Jersey with Christus Lutheran Church until he was called in 2004 as Senior Pastor to St. John's Evangelical Lutheran Church, Philadelphia, Pennsylvania.  Pastor Miller was called to serve as Holy Trinity's seventh senior pastor in 2012.
Pastor Miller and his spouse Heather have been married for more than 20 years and their greatest joy is life together with their son, Griffin. Together they enjoy all things Buffalo and Western New York, running, family trips to Florida, and time together with their Labrador Retriever, Kirby.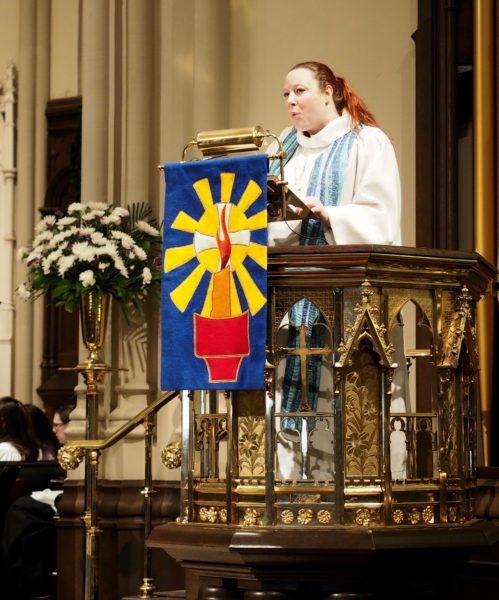 The Rev. Brenda Maynor, Pastor
Pr. Brenda is a 2017 graduate of the Lutheran Theological Seminary at Gettysburg with a Masters of Divinity degree, and was Ordained and Installed as pastor of Holy Trinity on September 9. Pastor Brenda  leads worship, provides pastoral care, relates to the  Faith in Action, Faith Formation, and Worship committees in addition to leading youth and family programming.
Prior to attending seminary, Pr. Brenda worked as a Critical Care Registered Nurse for 8 years and insights learned through the medical field impact her daily ministry.
The Rev. John A. Buerk
Pastor Buerk graduated from Union College, Gettysburg Seminary and did post-graduate work at Heidelberg University in Germany. He was ordained in 1959. Rev. Buerk retired as pastor of Parkside Lutheran Church in 2000, after 28 years there. Prior to that position he served as Protestant Chaplain to the State University of NY at Buffalo for 7 years, and in the University administration, also for 7 years. He was an Adjunct Professor in the Philosophy Department.
At the end of 2012, Pastor Buerk retired from his part-time position at Holy Trinity Church, though continues to keep an office in the Haller Administrative Center at HT. He is a regular presence in worship and bible study and is quick to share some wisdom or a story. He is married to Jill Raisen Buerk, and has three children: Linda, Dietrich and Christian.
Kristen Pomietlarz – Organist
Kristen received her undergraduate degree in Piano and Bassoon Performance in 2000 at SUNY Fredonia, and her Graduate Degree at the Jacobs School of Music at Indiana University – Bloomington in 2002, with concentrations in bassoon and organ.
While at Fredonia, Kristen was awarded the Performer's Certificate, and was the winner of the 1998 SUNY Fredonia Concerto Competition for Piano. At IU Bloomington, Kristen studied organ with Chris Young and Larry Smith, with continued subsequent study with Stephen Kennedy, Eastman School of Music and Organist of Christ Church Rochester, NY. Aside of her organ duties, Kristen has played principal bassoon with the Western New York Chamber Orchestra and teaches instrumental music at West Seneca East Middle School.
Justin Pomietlarz – Choirmaster
Justin is a 1997 and 2004 piano performance/music education graduate of SUNY Fredonia​, now in his 12th year on the faculty at Amherst Central High School. Prior to his appointment as Director of Music at Holy Trinity, Mr. Pomietlarz served as Concert Committee Chair, lead tenor and assistant conductor of the Chancel Choir and director of Youth Choir of Holy Trinity Lutheran Church, and sung with and accompanied for the Vocális Chamber Choir for the past 11 seasons.
​ He has been the accompanist and/or chair of the NYSSMA Zone I Area All-State Women's Chorus and chairperson of the ECMEA Senior High All-County Mixed Chorus since 2012, guest conductor of the 2010 Chautauqua Junior-High All-County Chorus and the 2017 Ulster County Junior High All-County Chorus.  This year he will guest conduct the 2018 ECMEA Junior-High North All-County Treble Chorus. He was selected as the 2013 Amherst Central School District  PTSA Educator of the Year and is listed in Who's Who of American Teachers.​ ​Mr. Pomietlarz recently recorded Finzi's Eclogue for piano and strings with the Camerata di Sant' Antonio, and served as Interim Director of the SUNY Fredonia Women's Choir from 2010-2012​.
Mr. Pomietlarz studied piano with Robert Jordan, and conducting with Donald Lang and Gerald Gray at SUNY Fredonia, with post graduate work with Janet Galvan (Ithaca), and William Weinert (Eastman).
Linda Lipczynski – Office Manager
Linda was named Office Manager in recognition of her many duties coordinating the ministries and properties of Holy Trinity in 2012; she began her time with Holy Trinity as parish secretary in 2007. Linda is the hub: her duties include administrative office tasks including: producing weekly bulletins, monthly newsletters, maintaining the council and committee minute book, coordinating the pastors' and church calendars, and updating the membership roll. Her previous employment of 22 years was with the law firm of Hodgson Russ LLP as legal secretary. Linda is married to Brian and has two boys, Kyle and Eric.
Carol Littlefield – Parish Accountant
Carol has been with Holy Trinity since February of 1987. She has a Bachelor of Arts degree in accounting from Canisius College. Carol is responsible for recording members' contributions, paying all the expenses, and tracking the church's investment portfolio. She is married to Marty and and they have two daughters, Caitlin and Claire.
John Busch – Director of Buildings and Grounds
John has been with Holy Trinity since April 1994. He is in charge of and oversees maintenance functions pertaining to all buildings and property belonging to the church. Some of his duties include performing plumbing, electrical, heating and painting repairs. He is also instrumental in acquiring bids from contractors for future renovations/repairs and oversees contractors throughout these projects. As of December 2008, John retired as a Senior Master Sergeant from the Air Force Reserve.
Charles Ryniec- Steward of Buildings and Grounds
Chuck has been at Holy Trinity since 2010.  He started off part time and has become a full-time Steward of Building & Grounds in 2012.  Daily he works with John Busch to maintain the church grounds.  He is always on hand to help the congregation when needed.  Chuck is married to Barbara and has two children, Kimberly and Derek.
Judy Reifsteck – Parish Nurse
Judy is a registered nurse with over 35 years of experience in the health care profession.  Judy has been a community Health Care Nurse for over 15 years and is a registered dental hygienist.  Having graduated from D'Youville College with a Bachelors Degree in Nursing she has a certificate from Lourdes Hospital Parish Nurse Program in Binghamton, NY.  She is also a leader of the Spiritual Caregivers Support Group at St. Gregory's Parish and she has completed a two course in Ecumenical Lay Leadership in the Church.  She is a widow with two children and four grandchildren.  Judy is employed part time at the Schofield Nursing Home as a Nurse Auditor for the Long-term Home Healthcare Program.
---
Congregational Church Council
President: Uli MacDonald
Vice-President: Emily Notari
Secretary: Jennifer Yap
Treasurer: Guy Huber
Council Members: Thedralyn Bradley, Kathy Crissey, Ryon Fleming, Richard Lee, Juan Perez, Raul Saona, Elizabeth Vihnanek and Barb Wozniak
---
The Church Council generally meets on the fourth Tuesday of every month beginning with dinner at 6:00pm and the meeting at 7:00pm. Most council meetings are held in Redeemer Hall.

Council meetings are open and members of Holy Trinity have privileges of voice at a regularly called meeting.